Ousted 'Amazing Race Canada' pals speak out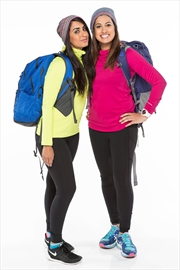 Best friends Shahla Kara and Nabeela Barday of Toronto pose in this undated handout photo. Toronto-area friends Shahla Kara and Nabeela Barday were the first team to be eliminated from the second season of "Amazing Race Canada." THE CANADIAN PRESS/HO – Bell Media
TORONTO – The second season of "The Amazing Race Canada" launched amid the glacial splendour of the Columbia Icefield — and before the premiere was through, one of the 11 teams had its hopes doused in cold water.
Shahla Kara and Nabeela Barday, plucky longtime friends from Markham, Ont., were the first team to be eliminated from the 'round-the-country trek, when a flood-rescue challenge at a West Coast naval base — one which every other team navigated with relative ease — left Shahla, distraught and immobile, squealing for medical attention.
It was a rare instance of stasis in a premiere that otherwise moved at a breakneck pace, tasked with introducing 22 players — four more than in the ratings bonanza of an inaugural season — and shuffling them from the dizzying heights of the Canadian Rockies to the placid coastal paradise of Victoria.
Heights were indeed a theme this week. After an opening spiel from host Jon Montgomery outlining this year's prizes — $250,000, 10 pairs of round-trip business-class Air Canada tickets, a pair of Chevy Silverado pickup trucks and "gas for life" from Petro-Canada (which inspired the in-unison gasp "gas for LIFE?!" from Terrace, B.C., brother-sister duo Jinder and Sukhi Atwal) — the teams were whisked to the peak of a 90-metre ski jump and strapped into a zipline nicknamed "The Monster," which manages speeds up to 140 km/h.
The first Road Block was similarly daunting for any acrophobic contestants: a 12,000-foot tandem skydive over Victoria, to be completed by one member of each team strapped to a guide ("the only reason I'd want to do it," quipped former ballet star Rex Harrington).
This task was a mere hiccup for all teams but the duo of Canadian Olympic hockey stars Meaghan Mikkelson and Natalie Spooner, the latter of whom solemnly forecasted that she "might throw up" as soon as she boarded the queasy flight. She was soon proven correct, in a sequence unfortunately captured on camera.
The next obstacle was more "Downton" than "Drop Zone." Gathering at the Fairmont Empress Hotel, the teams were to serve afternoon tea to a group of elaborately outfitted "lords and ladies" (Montgomery's words), a challenge that required verbatim recitation of the day's menu —including items such as roasted bone-in ham with tarragon dijonnaise and a cucumber and ginger mascarpone on butter brioche.
"It's just like studying for an exam. It's just memorization — that's all it is," said Winnipeg 19-year-old Cormac Foster, who then required 10 frustrating attempts to correctly recount the menu to the consternation of mother-partner, Nicole.
By contrast, two-time Olympic gold medallist Meaghan skated through the challenge with seeming ease, and the hockey players similarly had no problem with the final challenge at the damage-control school at Canadian Forces Base Esquimalt. After that, they sped to a drama-free first-place finish — which earned the pair the all-important Express Passes as well as a round-trip flight to South America.
Digestive distress aside, the duo was almost conspicuously competent throughout the episode — and the competition certainly noticed.
Cormac marvelled that he was "star-struck" by the champions, before his ever-practical mother immediately noted she would U-Turn them.
And the ever-quotable Alain Chanoine of Montreal — who along with girlfriend Audrey Tousignant-Maurice finished second in the first leg — perhaps best summed up the racers' impressions of the athletes, dead-panning: "I'm afraid of these women. I'm like, Terminator has arrived."
Otherwise, it was tough to stand out with such a large field of competitors and some teams — Toronto married couple Laura Takahashi and Jackie Skinner, Vancouver bartenders Ryan Steele and Rob Goddard and Halifax parents Jen and Shawn King, who narrowly avoided elimination — weren't allotted much screentime.
Threats or not, some teams summoned tantalizing glimpses of entertainment potential to come. Harrington and fiance Bob Hope gleefully issued non-sequitur bon mots (Harrington, while flying down the zipline, blurted "mother of Cher, I can't see!") while best buds Mickey Henry and Pete Schmalz offered proof that they're intent to turn this race into an Excellent Adventure.
With shaggy long hair, surfer patois and slow stoner grins, the pair helpfully wore T-shirts bearing their respective names and approached the first leg of the race with a refreshing light-heartedness.
When several competitors were milling outside the Empress waiting for their partners to complete the tea challenge, Shahla expressed her confidence in her partner: "Nabeela's a perfectionist."
"So's Mickey," Pete muttered back.
"Really?" Shahla asked.
"No," Pete chortled. "Look at him."
After finally mastering that challenge, by the way, Mickey planted a possibly unwelcome kiss on one of the tea lobby's prim older clients, shouted "I like your hat!" and set off for the next challenge.
Nabeela's attention to detail indeed granted her and Shahla a headstart over the likewise struggling Kings, but the pair squandered it at the next challenge — which required teams to stand in a room filling with cold water, then identify and manually plug nine leaky entry points before being overcome by liquid.
Most teams seemed to conquer the challenge quickly after figuring out what was required of them, but Shahla in particular couldn't stand the conditions.
"I'm almost heaving, it's so freezing," she lamented.
Eventually, they opted not to finish the challenge and instead accept a penalty that doomed them to a last-place finish.
"We literally cannot push ourselves any more," Shahla announced in an interview segment later.
She ultimately needed to be hoisted out of the room, weeping and cramped, by facility staff, one of whom remarked: "I guess you don't want to join the navy now, eh?"
The rest of the teams then set sail for Tofino, B.C., with the preview of the second episode promising more coast, conflict and carnage — in the form of oozing fish guts.
But first, Shahla and Nabeela talked to The Canadian Press on Wednesday morning about the "Amazing Race Canada" experience and the one challenge that stopped their race cold.
CP: Shahla, obviously you had a painful experience with the water challenge. Can you take me through what happened?
Shahla: We had just done a firefighter challenge, which they didn't really show too much on television, and it was an hour and a half of being in that firefighter suit and wearing that oxygen tank. And I think there was a leak in my mask and I was just so dehydrated from that challenge that going into that ice-cold water kind of just destroyed me, especially when we dropped that piece in the water and I put my head underwater to get it, all of a sudden I started losing feeling in one side of my body and I couldn't feel my legs.
Just being a therapist and knowing that there are things that can happen to people's bodies, you just kind of panic at that moment. We had to take a penalty.
CP: Nabeela, Shahla praised you on the show for being so supportive while she struggled. What was going through your mind when you knew she wouldn't finish that challenge?
Nabeela: Shahla was the one who originally proposed the idea of us going on "Amazing Race" together. She was like, we're great travel buddies, we're both adventurous, let's try to do this together. So when we were in that tank and she just said, "I can't feel my body," I looked at her, and I knew how passionate she was about doing this. I said, you know what, if you can't do it, it's OK. It's not worth causing a physical injury for this.
CP: But I understand it was actually you who got injured?
Nabeela: What happened was we got to the naval base and we hopped out of the raft and I actually tripped on the raft. It was a very silly trip. I didn't realize at the moment what had happened but I had actually gashed my leg to the point where it required eight stitches. But I ran on it, we did the firefighting challenge, we went into the tank. And it was only after when I changed my clothes that I realized that I had a four-centimetre-deep gash that required (stitching).
But adrenalin is this amazing thing where it can numb certain emotions.
CP: There was an exchange with the twins (Pierre and Michel Forget) where they kind of implied that you were flirting with them. I'm wondering if you could address that?
Nabeela: (laughs) So we were both sitting there waiting our turn to go onto the zipline and it was just a casual exchange of conversation. And I was genuinely intrigued as to whether their business, which is an abattoir, actually served and had halal meat. I guess somehow it seemed to be portrayed that I was flirting. But I was genuinely just interested in their business!
— Follow @CP_Patch on Twitter.
By Nick Patch, The Canadian Press